The Princess of Wales has joined pupils from schools taking part in Chelsea Flower Show's first children's picnic.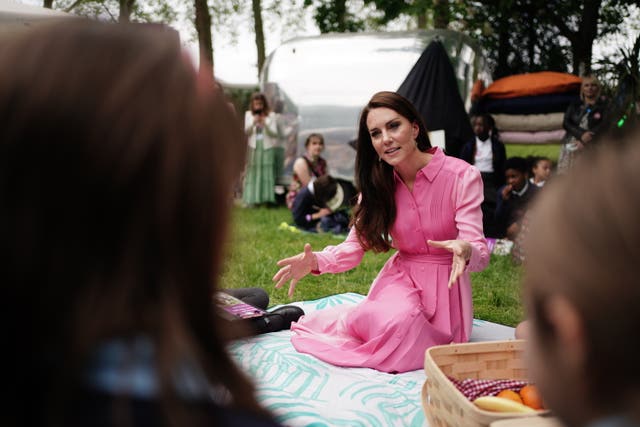 Kate, who in 2019 co-designed a Chelsea Flower Show garden to encourage the public to get back in touch with nature, chatted to youngsters picnicking at the site's bandstand.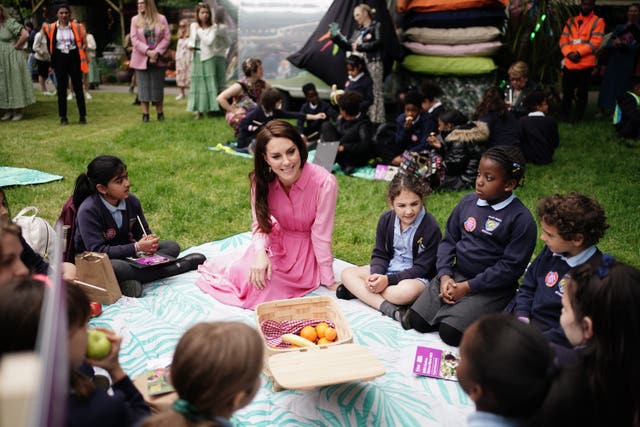 The children were from 10 schools from the Royal Horticultural Society's (RHS) campaign for school gardening, invited to an outdoor lunch ahead of the launch of the RHS's world-famous horticultural event.
The picnic initiative aims to help bring gardening and nature into the lives of more children, something that has been championed by Kate.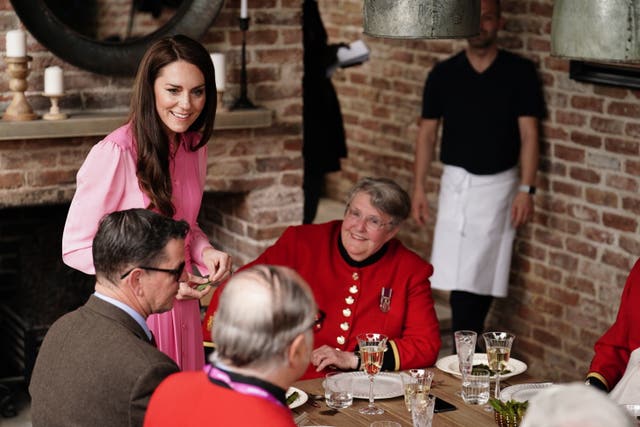 She inspired the idea during a conversation with the RHS during 2019 when her garden was on show at Chelsea.
The princess felt more children should be involved in the annual show.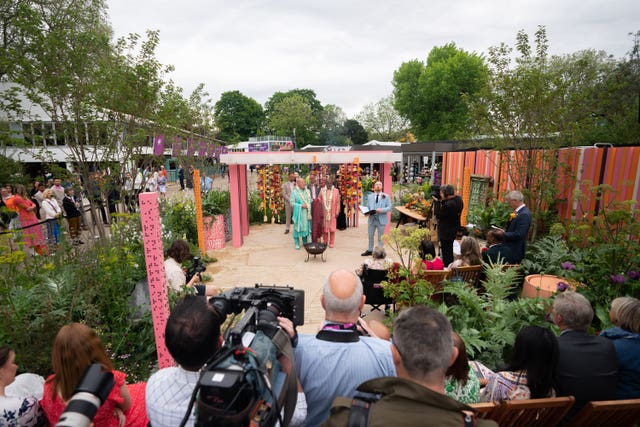 Meanwhile, the RHS ambassador for inclusivity and diversity married his husband at the show's first wedding.
Manoj Malde and Clive Gillmor held a traditional Hindu Indian wedding in the RHS and Eastern Eye Garden of Unity, which Mr Malde designed, on Monday.
Surrounded by plants including Japanese cherry, cardoon and oregano, with floral beads and decorations dangling from pink and orange beams, the couple wed in front of a colourfully-dressed crowd of onlookers, friends and family.
Recorded music from a sitar and flute wafted over the wood smoke from a fire pit in the centre of the garden while bees bobbed among the flowers.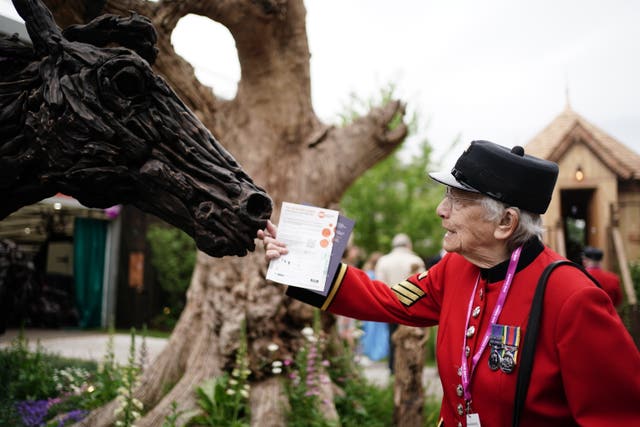 Gardens featuring more weeds and less formality have taken centre stage at this year's show, placing more emphasis on letting nature take control.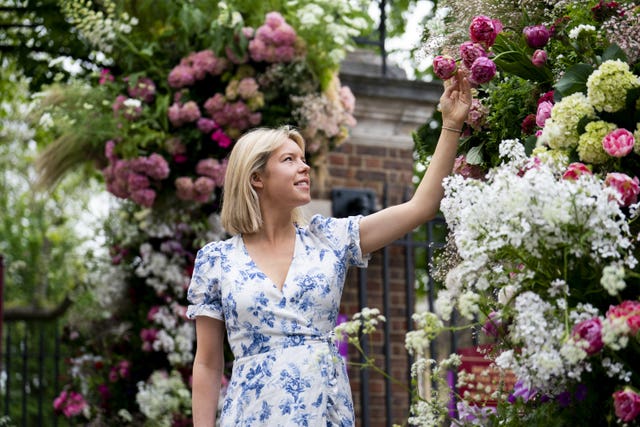 Native plants and trees, nettles, dandelions and a predominantly green palette of planting feature in many of the 36 show gardens, along with salvaged and upcycled materials.
Elsewhere, huge bursts of colour remain in the Great Pavilion, while first-time exhibitors include mushroom growers the Caley Bros.
This year's show is likely to spark controversy, said garden designer Andrew Duff, co-chairman of the Society of Garden Designers and managing director of the Inchbald School of Design.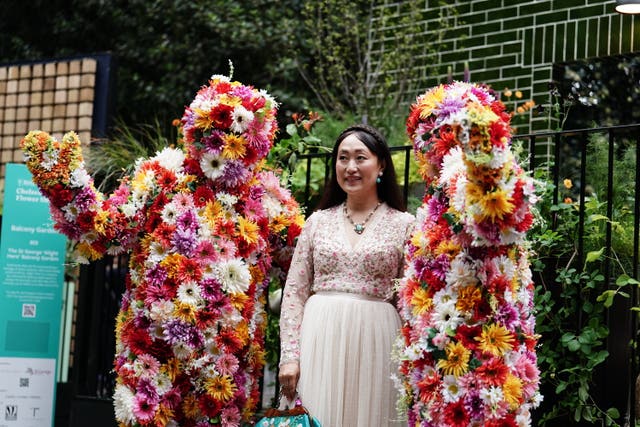 "There's a clear message about sustainability and environmental factors in an aesthetic way. There's a loss about actually, what is a garden supposed to do?" he said.
"Right across the show, the inference is that nature's taking control… maybe that it's OK to let weeds grow and let things get a little bit ruinous.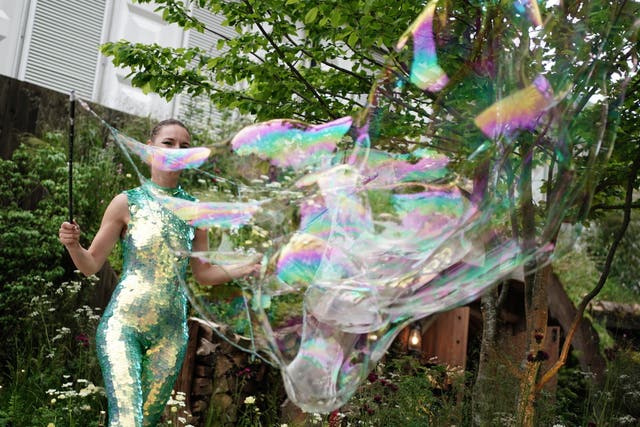 "But at the end of the day, people like a lawn, they like to look after a space – that's part of being in a garden – and it's time that we need (to address) that controversy," Mr Duff added.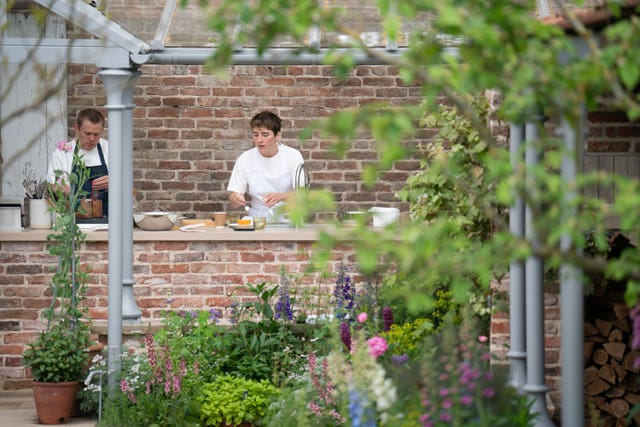 Reflecting on the topic, Matthew Pottage, curator of RHS Garden Wisley, says: "We are having a climate crisis. We do need to garden environmentally sensitively.
"Is this the place to be showing that? It's arguably the world's best flower show, so this is the place."