Sir Keir Starmer has pledged Labour would make the NHS "fit for the future" with new targets for ambulance response times, cancer diagnosis and cutting deaths from cardiovascular disease.
Delivering a speech on Monday, he echoed Nye Bevan, the Labour minister who helped found the health service, in describing illness as "neither an indulgence" to be paid for, "nor an offence" to be penalised.
The Labour leader claimed the NHS will not survive another five years under the Tories, whom he accused of not believing in their "heart of hearts" in the service's core promise to ensure it is available for all those who need it.
Giving the speech in Braintree in Essex, Sir Keir confirmed a number of key Labour commitments which include:
– Reducing cardiovascular disease including heart attacks and strokes by 25% within a decade.
– Ensuring 75% of all cancer is diagnosed at stages one and two, making it easier to treat.
– Ambulances to respond to cardiac arrest callouts within seven minutes.
– A return to the target of 95% of all A&E patients being seen within four hours.
– Hitting all NHS cancer targets, for example, for 85% of patients to start treatment within 62 days of an urgent GP referral.
The four-hour A&E target, which has not been achieved nationally since 2015, and an improvement in ambulance response times would be hit by 2030, he said.
He said: "We will fix the NHS. We will reform the NHS. Old values, new opportunities …
"An NHS, not just off its knees, but running confidently towards the future."
Sir Keir promised the audience a Labour government "will deliver an NHS that is there when you need it", adding: "No backsliding, no excuses. We will meet these standards again. We will get the NHS back on its feet."
Sir Keir also used the speech to propose a ban on advertising junk food to children, which he has said will target both TV and social media, and measures to prevent suicide.
He has proposed a shift towards more community-based mental healthcare to reduce the burden on hospitals, with a pledge to recruit 8,500 new staff and ensure treatment is available in less than a month.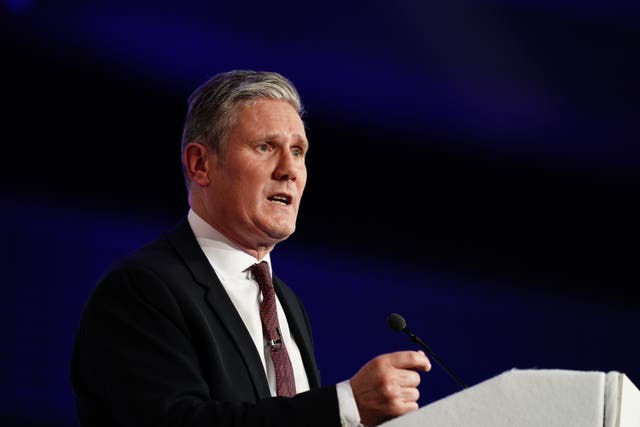 Data released earlier this month showed that a raft of NHS targets are currently being missed, including a key 62-day cancer target.
The Government and NHS England set the ambition of returning the number of patients waiting more than 62 days to pre-pandemic levels by March 2023.
However, the data showed that the number of patients waiting longer than 62 days since an urgent GP referral for suspected cancer stood at 19,248 in the week ending April 2.
The average weekly figure for February 2020 was 13,463.
The Government has also missed a target of eliminating 18-month waits for planned NHS care such as knee and hip replacements, though numbers have fallen dramatically in recent months.
The Labour leader said in his speech a "cruel lottery of who lives and who dies" exists in Britain despite the NHS being founded to offer care for all those who need it.
He told the audience: "(The Tories) voted against the NHS right at the start – more than once.
"While they have come to accept it as part of the political furniture, in their heart of hearts they don't believe in its central promise.
"For them it's a cost, not a cause, and from that mindset springs the well of their neglect.
"The poverty of their ambition, the sticking plaster, crisis management impulse that never sees the opportunities, never addresses the long-term."
The Labour leader ruled out imposing a salt and sugar tax during the cost-of-living crisis, but refused to be drawn on whether he would consider a levy in the event that economic pressures ease.
He said: "The focus we put today is very clearly on advertising, this is something the Government toyed with and then moved away from.
"I think that showed a fundamental weakness in their approach – an unseriousness about tackling the issues that really matter.
"What we don't want to do in a cost-of-living crisis is add to the burden of food costs."
Labour's pledge will be for suicide rates to start declining within five years.
The Conservative Party highlighted that cutting NHS waiting lists was one of Prime Minister Rishi Sunak's top five priorities for the country.
They responded to the speech with counter-accusations about Labour's own record on the NHS, with health minister Will Quince saying: "It's easy to shout from the sidelines, but the truth is Labour in Wales are currently missing all the targets Sir Keir Starmer has just set out for England.
"Labour have been running the health service in Wales for 25 years and haven't met these targets. Sir Keir has a record of changing his mind – we can't trust these will be Labour's targets next week let alone in five years' time.
"This Conservative Government has already reduced 18-month waits by 91% from their peak, and two-year waits are virtually eliminated."
NHS Providers, the membership organisation for NHS trusts across the country, warned that Labour's "ambitious" plans could only be realised with "adequate funding" for workers and infrastructure.
Sir Julian Hartley, the group's chief executive, said: "(Trust leaders) will agree with Labour's goal to reduce waiting times. Trusts have made remarkable progress on the longest waits for planned operations given the recent challenges.
"However, this goal will only be achieved if it's underpinned by adequate funding for health and care workers as well as for infrastructure."
Sir Keir refused to say whether Labour would back its commitments by investing more in the NHS than the current Government, insisting that funding was "important" but that "it's not all about money".
He said his focus will be on harnessing the power of science and new technology, which he described as "gamechangers" to improve the health service, such as by using the NHS app to host digital patient records.
"The wonder of science has taught us, with ever-increasing clarity, that our health depends on how we live… and with artificial intelligence, with personalised medicine, with new vaccines, we stand on the cusp of a revolution that could transform healthcare for the better," Sir Keir said.
Nor would the Labour leader give many details on how he would approach the long-running pay dispute between nurses and the Government, though he acknowledged fair remuneration would be crucial to any successful NHS reform.
"On the structure of negotiations, we haven't focused on that, to be frank, because what I've set out today is what we need to do to make sure the NHS is fit for the future," he said.
"We know that a fair pay agreement is an essential part of that."
The British Medical Association (BMA) voiced similar concerns, questioning how Labour plans to attract recruits to the medical profession given the widespread discontent among existing workers.
"The big question that remains is how Labour will fund and implement their plan, and there is little regarding how Labour will recruit and retain staff amidst a spiralling workforce crisis, despite committing to increasing medical school places, a policy which will take years to boost doctor numbers (and only with enough investment and support for teaching, supervision and physical space)," the BMA said.
"As always, greater detail is needed on addressing this fundamental question. We look forward to working with the Labour Party on their approach to make the NHS fit for the future."
Right-wing think tank the Institute of Economic Affairs commended Sir Keir for not pledging directly to boost funding but urged him to look to neighbouring countries to learn from "international best practice".
"Keir Starmer is to be commended for not doing the cheap and easy thing, which would have been regurgitating the popular but false idea that everything was fine in the NHS until the Tories took over and ran it into the ground," the institute's head of political economy Dr Kristian Niemietz said.
"Even more commendable, he specifically distances himself from the false idea that the NHS's woes can be cured solely by throwing more money and heaping more praise."